Future proofing ACT digital design
Future proofing ACT digital design
The ACT Government has over 100 websites which are increasingly becoming the front door for access to, and interacting with government services. For the ACT Government, it was important to improve the user experience of its online ecosystem and to create efficiencies in the way it designs, builds and maintains these  websites.
Designing a foundation for the future
Working closely with the ACT Government team, Pollen created an accessible, validated and uniquely ACT Government Design System which can be used and customised across all ACT Government agencies. Pollen also developed the code for the components and delivered these along with guidance for use in Storybook.
ACT Government websites had been using an outdated design system that needed improving, and required a plan for ongoing support and iteration.
An adaptable system for the whole of Government
Pollen was engaged to design a new web design system for ACT Government that, over time, would support its entire online presence through creating a suite of components that provide consistency while also being flexible. The design system has to work across straightforward implementations of the ACT Government brand where it delivers information services, whilst being adaptable by different directorates to inject their own brand presence, and be flexible enough to support campaigns and programs which often have a unique look and feel.
An additional challenge was to code the design system components in a way that development teams across ACT Government could use these in various content management systems.
A highly collaborative approach
We designed the visual concepts and several page templates, and circulated these for feedback. Once we had progressed designs, we conducted user research with key audiences to validate our approach, and adjust according to feedback. 
In order to see the design system in action, Pollen designed key pages for several of the ACT Government websites, including ACT Health and Access Canberra. This allowed us to create the design system in context and with real content and users in mind. These page designs which incorporated the design system components were validated with users and refined based on insights and feedback.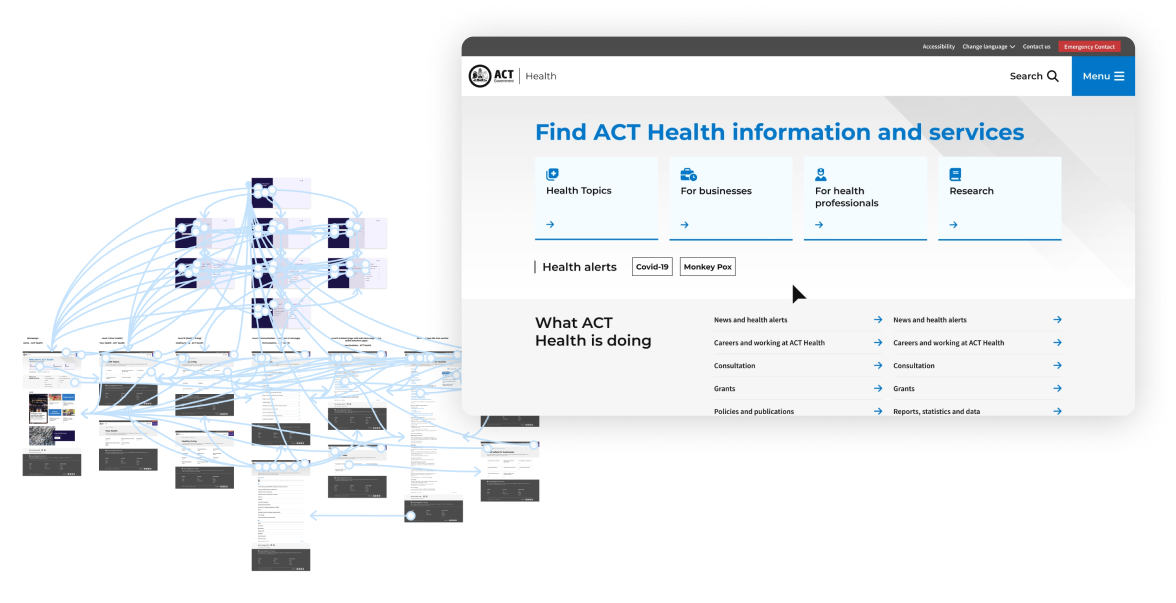 Accessibility at the core of the system
Pollen created the ACT Government design system using the atomic design methodology. We used Figma's features including components, variants and other plugins to ensure ease of use as well as WCAG 2.1 and AA design compliance. As part of the design process, we considered the ACT Government style guide and its existing Design System. 
Not just a pretty picture
In addition to the completed designs, Pollen developed the components in .html and .css, so they could be implemented across a range of content management systems within the ACT Government ecosystem. The ACT Design System source code is documented in Storybook and is hosted on GitHub managed by ACT Government.
The outcome for ACT Government
ACT Government now has a foundational design system that is being used to build several of its largest websites over the next year, as well as applying it to key campaign and program sites. Pollen also supported the ACT Government team around governance and building its own internal capabilities to maintain and update the design system longer term.