Reflecting the luxury and sophistication of St Hugo wines
Reflecting the luxury and sophistication of St Hugo wines
Creating a luxurious sensory experience
Pollen were tasked with creating a digital 'brand home' for Barossa based pedigree wine label, St Hugo.
The objective was to drive consideration, showcase the new brand home environment and bring to life the quality credentials of the brand via a luxury Drupal powered digital portal for consumers seeking more information.
The site also needed to address the growing Chinese market for premium Australian wines and drive sales of unique wine experiences available at the brand home.
To address these requirements Pollen developed a site strategy that divided the proposed content into three pillars - People, Place and Produce.
Work in progress
One of the early hurdles of the project was that the actual construction of the brand home building would not be complete in time for the required launch of the website (which needed to be live for a regional Barossa marketing push). Thus we needed to launch the project in two phases, with the first phase focused around People and Produce (with the Place to come, when completed).
After defining the overall architecture for both phases, we set about creating assets for this initial launch - any early environmental/regional imagery (that didn't involve the building) and the final product shots. Working with the St Hugo brand and digital teams, Pollen concepted, art directed and shot the final product images for the site and other media.
A site that got better with age
Following a successful Phase 1 launch to meet the regional government marketing push, we began planning the final creative concept for the final brand home website.
In order to achieve the the level of luxury and sophistication the client and brand required, we undertook an extensive 3 day on-site shoot at the new brand home in the Barossa. Capturing the recently completed brand home building, shooting the cellar door, private tasting rooms, restaurant and key personnel. In order to really drive the sense of place of the venue (and Barossa). In addition we also shot a number of environmental videos, which now set the tone of the site and brand right from the homepage.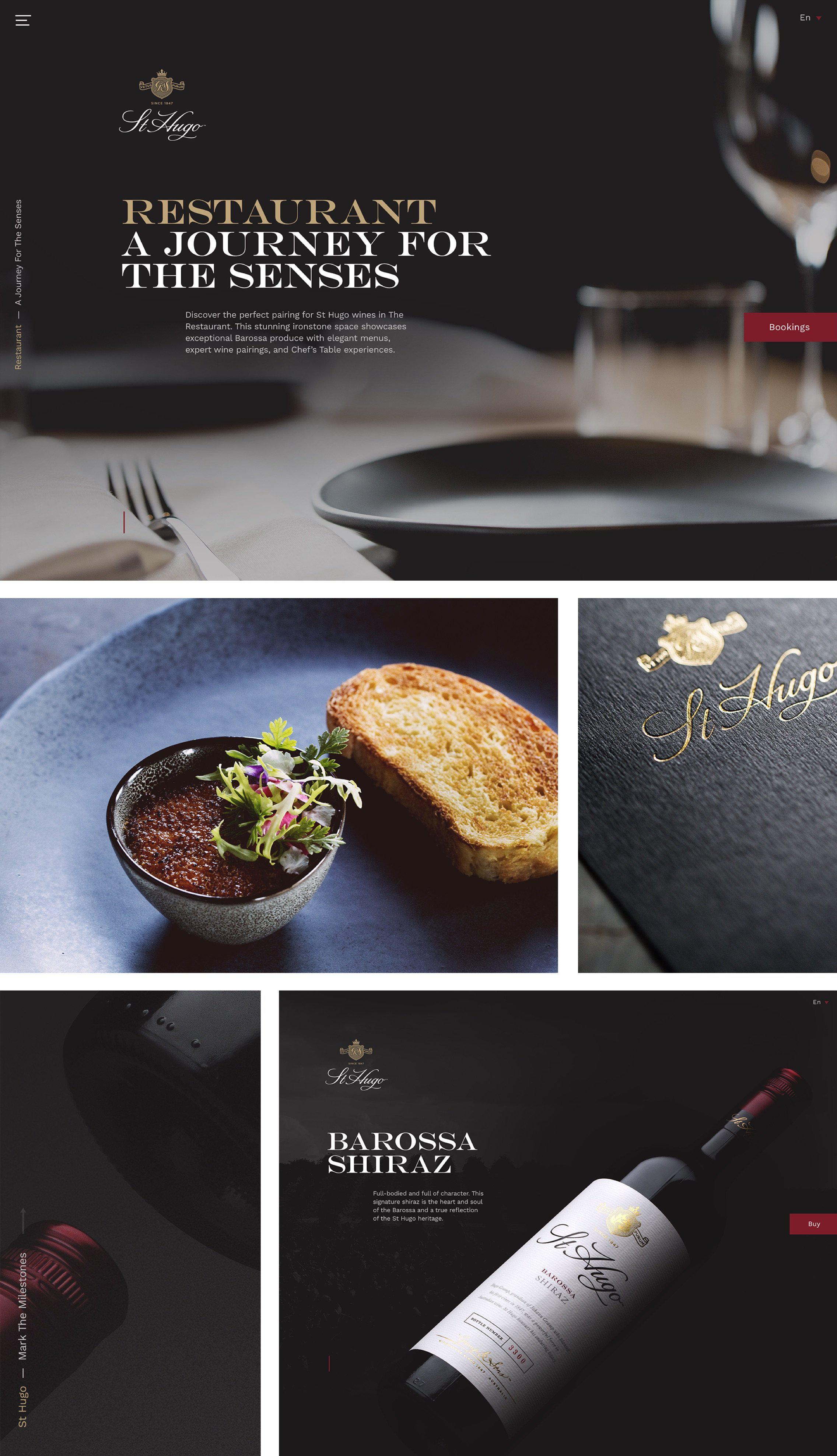 To complete the package, Pollen were also requested to developed a comprehensive social strategy for both the Australian and the Chinese markets. This strategy set out to - 'Inspire our global community to celebrate their milestones in the pursuit of excellence', we did this by creating a series of inspirational images and video loops for the brand, that were tied to a comprehensive content plan and social brand guidelines.
A mark of excellence
Arguably, the end result is a stand out example of any local or international wine brands digital presence, and continues to drive traffic from the ongoing social activity, both here and in the key market of China.