Telling the story of convict Sydney
Telling the story of convict Sydney
The World Heritage listed Hyde Park Barracks is one of the most significant convict sites in the world. A crossroads for tens of thousands of people, it played a central role in the world's largest and longest-running system of convict transportation.
Sydney Living Museums approached us to collaborate with them in creating an online experience that accompanied the real-life experience of a visit to the Hyde Park Barracks Museum.
The brief was to tell the story of Convict Sydney through the lens of the Hyde Park Barracks
Following our Project Initiation, we moved to a Discovery workshop. Working together with SLM, we helped to prioritise and better understand our audiences, their goals and the context behind their visit in order to design a solution that best met their needs.
A peers and competitor review was carried out, both domestically and internationally, to gauge the standard of interactive storytelling in the cultural space. With such rich content to work with we wanted to ensure we did the content justice by creating a compelling and rich narrative experience.
The story charts the changing role of convicts in helping to shape Sydney – from 1788 through to 1848
An immersive experience with side stories interwoven within the main narrative, It would become a resource for young students, local visitors as well as international visitors to the Hyde Park Barracks Museum.
Armed with access to Sydney Living Museum's vast knowledge base and library of artefacts, Pollen collaborated with the museum's curators to articulate how the Convict Sydney story could best be told and determine how supplementary content could be used to deliver that story as effectively as possible.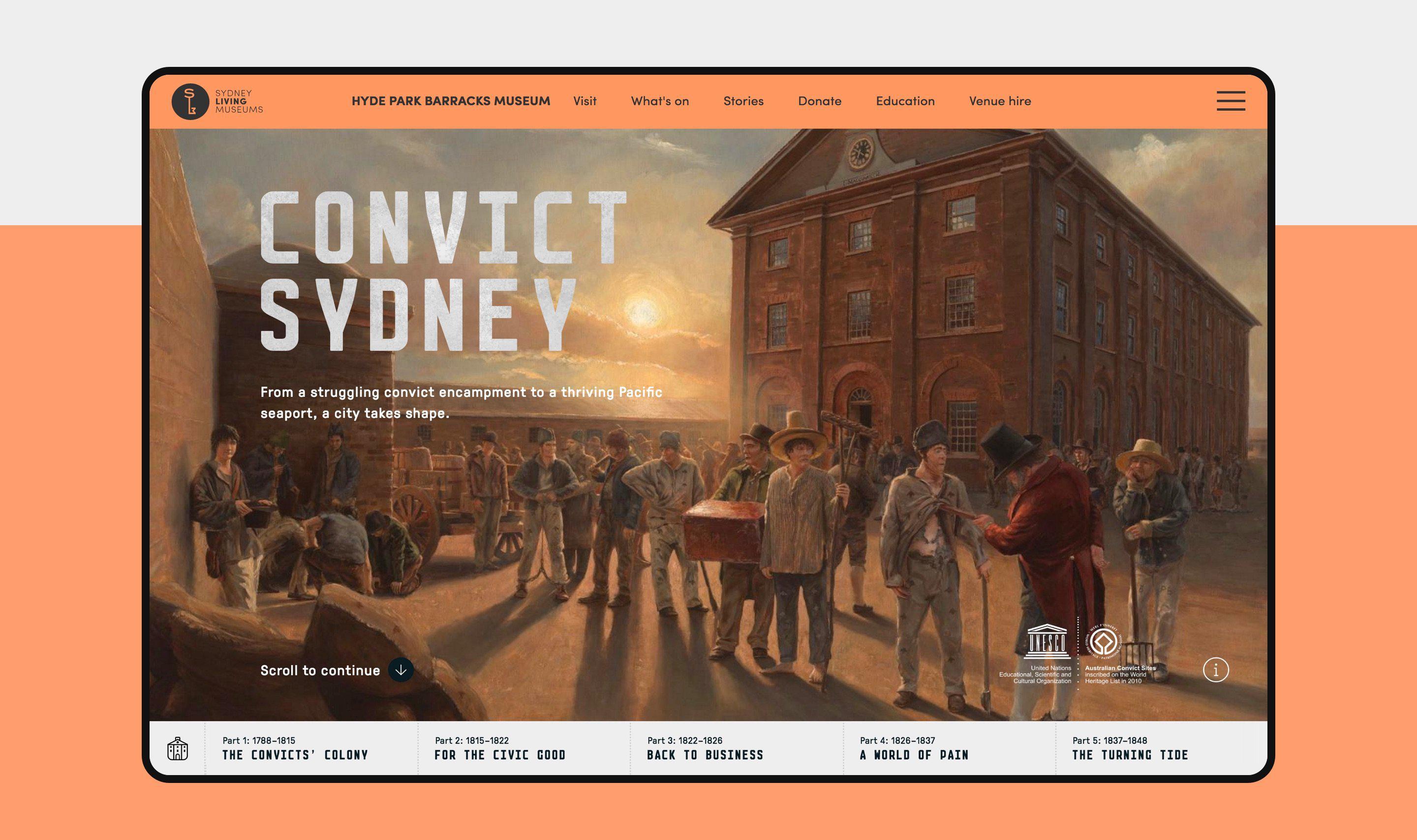 During the design phase, Pollen worked closely with SLM's development team to devise a solution that was fully responsive, scalable and robust enough so that it could cater for the various types of content.
Our design team worked iteratively throughout the project from initial concept designs, to a workable, functional framework of modules
These modules work in multiple arrangements to tell the Convict Sydney story, with a design system that SLM could take and implement in future uses to create completely new pages and stories from scratch.
Once launched, the Convict Sydney site was well received by visitors to the museum with a 17% increase in visitors (sessions) YoY and 72% increase in visit duration YoY.
It was also recognised by the international design community, receiving Bronze in the International Design Community Awards in 2017.
"Pollen's processes, from initial road mapping through to the creative and project management were really strong and ensured there was complete transparency from beginning to end. Their genuine engagement with the content gave our team enormous confidence in their UX and design ideas, particularly in and around how they fitted with our story and the existing brand."
A really impressive team we hope to work with again.

Tim Girling-Butcher, Head of Web and Screen Media