Connecting with people in times of need
Connecting with people in times of need
What's better – prevention or cure? Personal safety and welfare start-up, Sonder, came to us with a unique brief. They wanted to validate the core proposition of their app and refresh the overall look and feel with their new branding.
The original hypothesis was that the product would primarily be useful in critical situations and the app design reflected this – a big red button labelled 'Help' in the middle of the screen.
Given the sensitivities around the role of the app in times of potentially high stress, we wanted to be sure we had a firm understanding of the users needs and behaviours.
We invited a cross section of users from existing and potential new audiences to our testing labs to see what they thought the service did and more importantly, why they would (or wouldn't) use it?
We uncovered some mis-alignment between users perceptions of the app's purpose and the actual situations when they would use it
We began to gather insights that helped reshape and prioritise existing product functionality, like monitoring of users while they travel, offering them reassurance in their everyday activities like going to and from university or work, or meeting up with an unknown person for the first time.
We worked in close collaboration with key members of the Sonder team
Taking insights from real users, we set about helping to define and re-prioritise the app features, heroing those our audiences found more desirable.
The users wanted to feel safe and secure in their day-to-day lives, have support in times when things were a little out of their control and confidence that the Sonder team would follow up and ensure everything was OK after the event.
We moved away from an interface that screamed "emergency" and into a design that encouraged users to feel confident to use the service in everyday moments when they're feeling a little vulnerable.
Sonder also wanted us to help them promote their product via a refreshed website and clean up their registration process.
We re-imagined the way the company's services were presented to make them more engaging
We wanted to provide potential customers – both B2B and direct – with product and service information that clearly communicated the benefits and compelled them to explore further.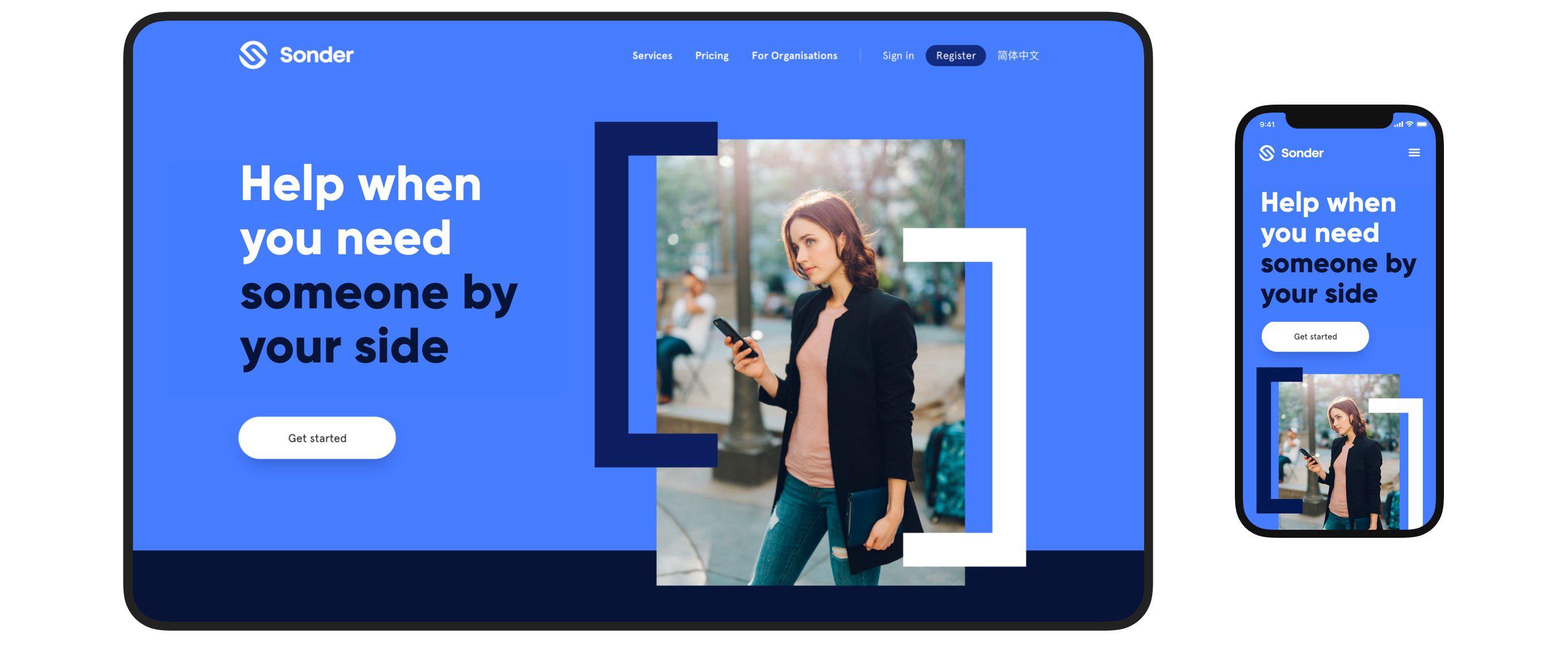 By working closely with Sonder and listening to their users, we helped deliver against their brand promise to ensure their customers did indeed have help when they need it and confidence when they don't.